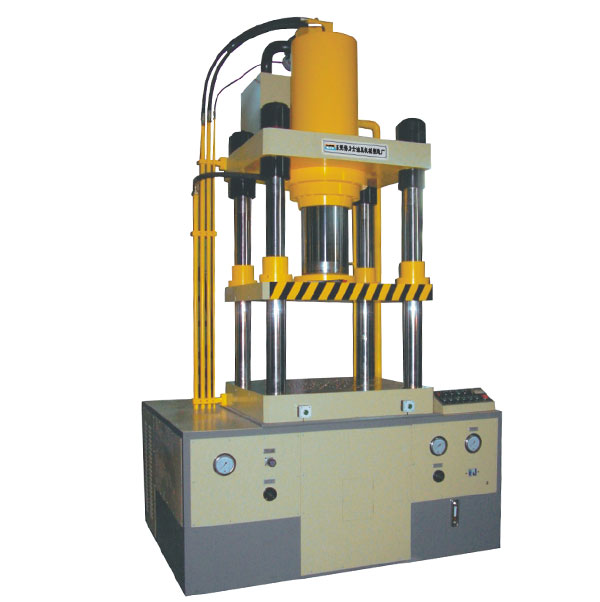 4 Column Deep Drawing Hydraulic Press
Use Range
:
1. Stamping, forming, shallow, drawing, die spotting, molding and blanking etc.of metal and none metal parts.
2. Well suitable for pressing and forming of watch & clock parts , spectacle parts , tableware , photo frame , metal ornaments.
Detail
4 Column Deep Drawing Hydraulic Press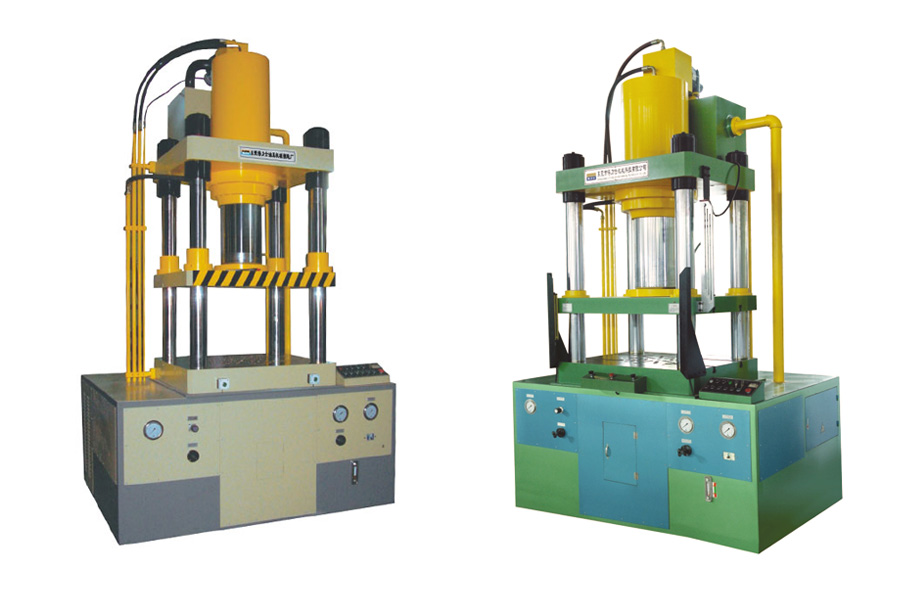 1. Advanced two way cartridge valve system ensures high reliability and much less hydraulic shock direction change.
2. Main hydraulic cylinder is made of alloy cast steel and it's inner surface is finely grinded for life under high pressure.
3. Four columns are made of alloy steel with high tensile resistance and finely grinded and electro-plated with hard chrome.
4. Key hydraulic and electric units adopted are famous brands from Germany USA and Japan.
5. Fast approaching speed of movable working table creates higher production efficiency.
6. A hydraulic ejector is installed on movable working table for knocking out workpiece after drawing.

1. Deep drawing and forming of tableware, kitchenware, metal cover of electric motor, household appliances and lighting ware etc.
2. Trimming stamping deep drawing and edge-cutting of metal or none-metal workpiece.
Goodsjack 200 ton deep drawing hydraulic press for
pot forming

Goodsjack double acrtion deep drawing hydraulic press

for

food box forming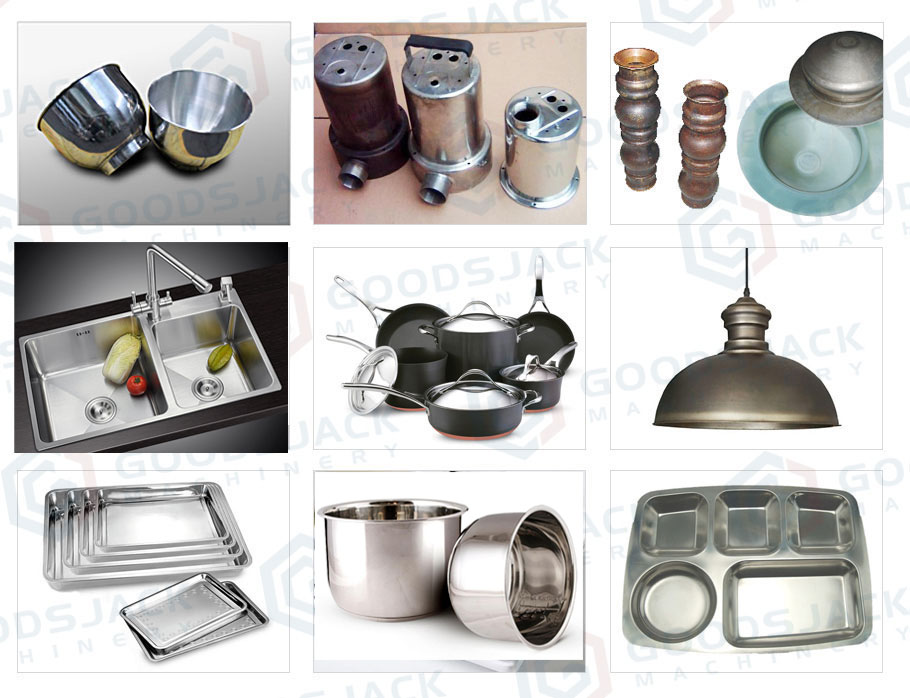 Model
Units
Specificatons
DSF-50
DSF-120
DSF-220
DSF-220L
DSF-275
DSF-350
DSF-350L
DSF-500
DSF-500L
DSF-600
Main cylinder
Rated capacity
Ton
35
85
160
160
200
260
260
350
350
420
Max.stroke
mm
350
450
560
560
560
560
560
600
600
700
Blank holding cylinder
Rated capacity
Ton
15
35
60
60
75
90
90
150
150
180
Max.stroke
mm
175
200
260
260
260
600
260
300
300
350
Knocking out ejector
Rated capacity
Ton
2
3
5
5
5
5
5
10
10
10
Max.stroke
mm
150
180
200
200
200
220
220
250
250
300
Open height
mm
600
730
900
1000
900
900
900
1000
1200
1500
Height of fixed working table
mm
990
1055
1080
1100
1100
1200
1200
1550
1600
1700
Approaching speed of M.W.T.
mm/s
195
220
210
210
210
200
200
210
210
190
Drawing speed of M.W.T.
mm/s
25
20
20
20
19
17
17
18
18
14
Returning speed of M.W.T.
mm/s
180
220
200
200
200
165
165
190
190
180
Ascending speed of blank holding cylinder
mm/s
120
50
120
120
115
160
160
85
85
75
Working table size available
(L-R)
mm
500
500
710
900
800
900
1100
1050
1250
1400
(F-B)
mm
550
600
870
1100
900
1000
1250
1200
1500
1600
Overa ll dimension
(L-R)
mm
1750
1990
20900
2280
2190
2200
2400
2970
3090
3690
(F-B)
mm
1160
1510
1500
1750
1650
1850
1850
2200
2400
2000
(H)
mm
2550
2920
3500
3500
3600
3800
3840
4680
4800
5640
Motor power
kw
7.5
15
30
30
30
37
37
55
55
55
Weight(Approx)
kg
2280
3500
6000
6600
7500
9500
12500
16000
22000
23000